Maui Hydrotherapy Center
Infrared Sauna, Steam Room, Cold Plunge and Jacuzzi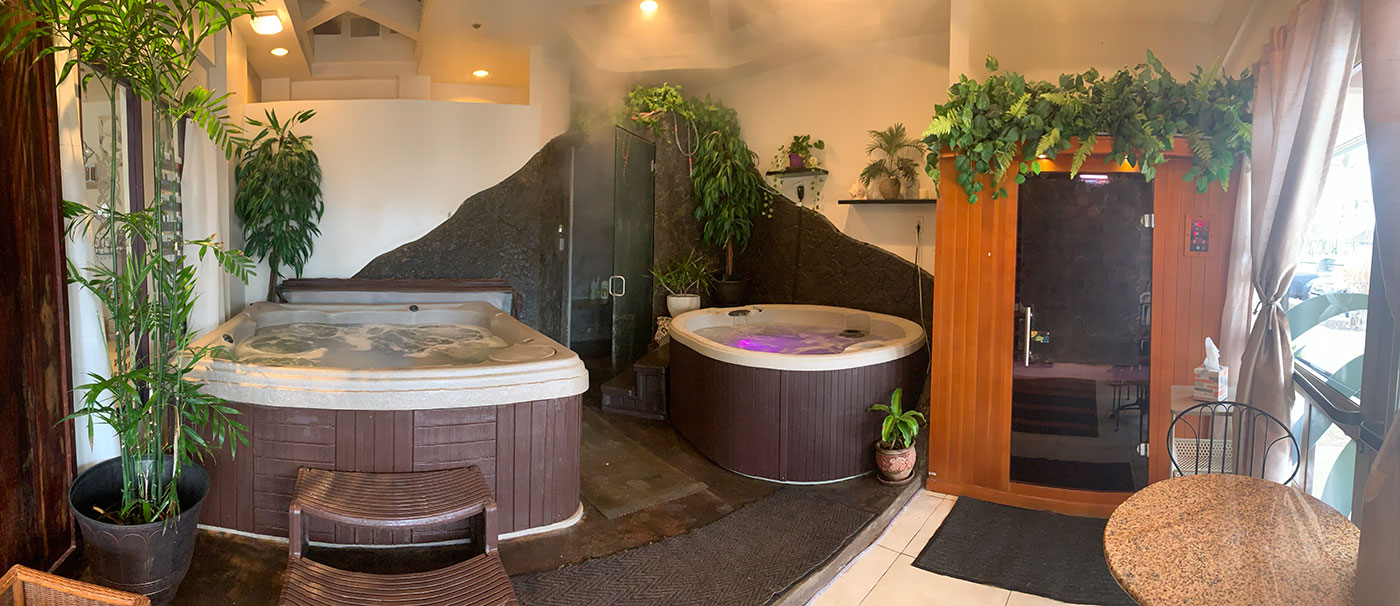 Maui Water Therapy
The Ultimate Day Spa Upgrade on Maui… Step into total relaxation when you enter the aqua wellness room. If you're looking for a full service aqua spa, if you need a Maui hot tub—or steam room or sauna—you're welcome to return as often as you need.
Explore the benefits of water therapy. Switch from hot to cold going from the jacuzzi to the cold plunge (also known as Nordic Spas).
Choose how you use it: Share the space with other guests using drop-in access, or reserve the entire aqua space for your own private gathering.
About the Aqua Room
Infrared Sauna
With more benefits than listed here, this type of sauna emits radiant heat that is absorbed by the surface of the skin. You can lose over 300 calories in minimal time, which is equivalent to running 2-3 miles. Also this sauna is great for arthritis, pain relief, removing toxins, energy expenditure & weight loss.
Bringing relief from sore muscles, stiff joints and enhancing the immune system, this room also encourages lymph detox. Time in the steam room creates blood circulation improvement, provides congestion relief and other benefits.
Cold Plunge / Nordic Spas
62 degree water acts as stimulus to shock the system to flush the organs, cooling down the body and closing the pores. The hot and cold combo increases circulation and strengthens the sympathetic system & parasympathetic nervous systems. Not recommended for people with heart problems.
Jacuzzi
Reduce stress mentally and physically in the body. The jets will massage your sore muscles while sending messages through your nerve endings and create an overall wellness for your whole being.
RATES
$15 with purchase ($75 minimum)
$25 1 hour
$35 2 hour
$75 4 day pass
Private Parties or Events – 1 hour
$150 for 6 people or less
$25 per person over 6
$20 per person for an additional hour
PRIVATE PARTIES OR EVENTS – 1 hour
Private parties in the aqua room have become very popular because they're so much fun! Invite a few friends and step into your own private hydrotherapy experience. It's social and relaxing. Your guests can rotate from the hot tub to the steam room, to the cold plunge … and don't forget the infrared sauna! Rotate through our aqua stations at a leisurely pace among your favorite people.
Wonderful idea for bridal parties & birthdays!
Call now to book time in our Maui hydrotherapy room
808-879-9944
Open Monday – Saturday from 9 a.m. to 6 p.m.